where we are now
Greenhouses have to be heated. But preferably not with natural gas. Thirty percent of our growing sites already use renewable energy to heat their greenhouses, such as geothermal heat or residual heat from industry or other growers. This percentage will increase in the years to come, because 80% of our growers are connected to a heat cooperative or a sustainable initiative.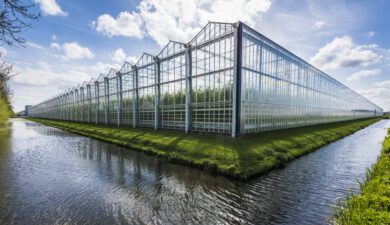 how we tackle this
We already have many different ongoing sustainability initiatives within our cooperative. For example, there are 4,340 solar panels on the roof of Growers United. But there are lots more examples besides.
Aubergine growers Gebr. van Duijn and tomato growers Van Adrichem Nurseries heat their greenhouses in Westdorpe entirely with residual heat from the Yara fertiliser factory. A massive 55 million m3 of natural gas is reused each year in the horticultural area around Terneuzen. This is the equivalent of the annual gas consumption of 35,000 households.
Greenhouses are heated with hot water (60°C) flowing through a pipe rail system. Ten growers are connected to a geothermal heat source: five tomato growers, four sweet pepper growers and one aubergine grower.
They pump warm water out of the earth from a depth of 2 km. The heat obtained in this way enters the greenhouse heating system via a heat exchanger. If the water temperature is 40°C, the grower only has to heat it up another 20?, for which 50-80% less gas is needed.